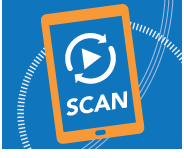 Chapter 8: Printing Processes
To get a feeling for the book, please download the PDF. You are free to print it out, or view it on your PC or mobile device. Your feedback is welcome.
To access the video content, scan either page 132 or 133 with the Ricoh Clickable Paper app.
…then explore the book's interactive features.
Before using the app, print out the chapter (in black & white or color) or view the PDF on a PC screen, using Adobe Acrobat or Adobe Reader. Make sure you have an Internet connection and enough light to read by. Open the app and aim your mobile device camera at page 132 or 133. (You may need to move your device to get more of the page in the frame.) Click on the finger icon that appears on your screen. A choice of online options will appear, each taking you to an online experience, such as the video portal.
Installing the Clickable Paper App
Ricoh's "CP Clicker" is free, and easy to install on your tablet or smartphone. If you are reading this page on your mobile device, use the buttons below to download the right version for iOS or Android.


If you are reading this page on your PC, you'll need to access the CP Clicker app separately on your mobile device. Just type "www.igcbook/cp" in your mobile browser.